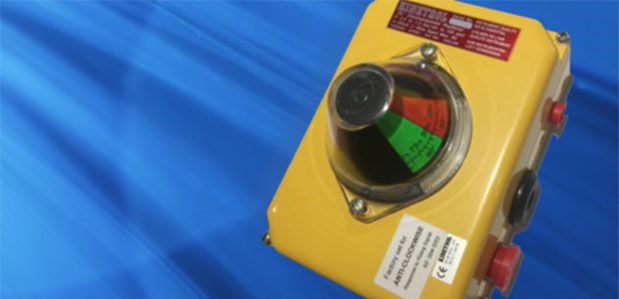 Gosco Valves is proud to be Kinetrol's Master Distributor in Canada. Kinetrol manufactures EL Electropneumatic Positioners and AP Positioners which are available for mounting on Kinetrol rotary actuators or with a Kinetrol male square with mounting brackets on any brand of actuator.
Why Choose a Kinetrol EL Electropneumatic Positioner?
The Kinetrol EL positioner controls airflow to an actuator and moves it to a position determined by a 4-20 mA signal. Kinetrol designed the positioner to use a low power proportional servo valve to control the position of a quarter-turn actuator. As the actuator moves, the feedback potentiometer voltage changes and the microprocessor continually calculates the adjustments required for the servo valve in order to guide the actuator accurately into position. The microprocessor is programmed with a sophisticated algorithm which allows for critical dynamic valve adjustments to be made correctly. Elegantly designed for proven performance, the EL positioner will not disappoint.
Kinetrol EL Positioner Features include:
Fast, smooth, and precise control
Simple field set up (easy to calibrate and reversal from clockwise to counter clockwise)
Flexible installation, can be mounted in any orientation on to any quarter turn or linear application by connection via a NAMUR or Kinetrol square interface
Loop powered- no separate power needed, only 4-20 mA signal plus air supply
Easily retrofitted options include: two wire 4-20 mA isolated angle retransmit, mechanical or inductive position indicator switches, clear cone high visibility indicator, threaded conduit entries or DIN plugs for external connection
Intrinsically safe approved options
Weatherproof, robust metal housing
Zero backlash coupling with easily adjustable switch strikers
Vibration and shock resistant to 4G
Built-in gauge ports/external connections
Kinetrol EL Positioner General Specifications:
4-20 mA signal, requiring max 8V to drive through positioner circuit
Air Supply: instrument quality (dry, clean, oil free Class 6.4.4 ISO 8573.2001), 50 to 100 psi (3.5 to 7 bar)
Zinc alloy case and cover with epoxy stone enamel finish
Enclosure Rating: IP65/NEMA 4X
Operating Temperature: -20°C (-4°F) to +70°C (158°F)
Control Response: 0-90° positioning with one linear and 10 non-linear preselected characteristics as standard. Consult Gosco Valves for the following versions:

Linearization of butterfly valve characteristics
Pre-selected travel time extension option (with active feedback control of travel speed)
Customised responses

Sensitivity: better than 0.1 mA (combination of EL positioner on a Kinetrol actuator - not just positioner performance)
Deviation from linearity: less than 0.7% of span (combination of EL positioner on a Kinetrol actuator - not just positioner performance)
Flowrates @ 5.5 bar: 3.3 SCFM (93 l/min)
Weight: 2.95 kg/6.5 lb
Why Choose a Kinetrol AP Pneumatic Positioner:
The AP Positioner is designed to drive a rotary or linear actuator to a position set by a 3-15 psi (0.2 - 1.0 bar) signal and hold it there until the signal changes. The input signal and desired position is determined by the cam profile. A cam giving 0-90° output movement linearly proportional to a 3-15 psi (0.2 - 1.0 bar) signal is standard. Consult Gosco Valves if you require other characteristic options.
The AP Positioner is the positioner of choice if the user is after accuracy, smooth operation, and a product that can withstand harsh industrial environments. Users love that it is easy to calibrate and characterize, and that a myriad of options are available including limit switches, 4-20 mA angle retransmit, clear cone position monitor for easy sight lines, and I/P converters. This is a positioner that is convenient, robust, and delivers unparalleled performance .
Kinetrol AP Positioner Features include:
Easy set up and access to internals (quick calibration and no requirement for special tools)
ATEX CAT 1 approved versions are available
Weatherproof, robust metal housing
Maximum industrial vibration tolerance of 4G, 100 Hz
Flexible installation, can be mounted in any orientation on to any quarter-turn or linear application
Fast, smooth, accurate response
Built-in ports for signal air supply and gauge connections
Clear cone monitor option is available
Low temperature -40°C (-40°F) and high temperature 100°C (212°F) versions available
Options include: two wire 4-20mA angle retransmit, mechanical or inductive limit switches, 4-20 mA I/P convertors, DIN plug option for retransmit connection
Kinetrol AP Positioner General Specifications:
Standard -20°C (-4°F) to + 80°C (176°F) ambient operating temperatures, dependent on switch options, high temp (up to 100°C) and low temp (down to -40°C) available
Zinc alloy case and cover with epoxy stone enamel finish
Signal: 3-15 psi (0.2 – 1.0 bar)
Air Supply: instrument quality (dry, clean, oil free) 50 psi to 100 psi standard
Control Response: 0-90° linear output standard
Sensitivity: better than 0.7% span (combination of the AP positioner on a Kinetrol actuator - not just positioner performance)
Deviation from linearity: less than 1% of span (combination of the AP positioner on a Kinetrol actuator - not just positioner performance)
Flowrates @ 5.5 bar: 3.3 SCFM (93 nl/min)
Weight: 2.8 kg/6.2 lb